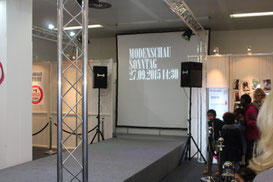 I am truly sorry for the lack of posts on my Blog for the last month. Things have been really crazy this month because I have been working day & night on my Fall/Winter Collection 2015 (which I know is pretty late, seeing that other Design Houses have just released their Spring/Summer 2016 Collection). My new Collection which is almost ready will be released at the dockland Fashion Party 2015 on the 1st of October at 6pm at IndoChine Restaurant,  can't wait to see you all there.
So, in the craziness of designing & making the outfits, one Saturday morning I dragged my whole Family to go with me to one of my favourite Fabric Supply Stores here in Hamburg, Mahler Stoffe to buy some Fabrics that I needed. And while climbing up the stairs to go into the Store, I saw a Poster on the Wall announcing about a Sewing Competition (Hamburger Nähtalent 2015) & told Hubby that I would like to take part in it. The Competition was organised by Nähmesse Hamburg which is a Sewing Exhibition that takes part every year in Hamburg & brings together many Stores & suppliers of all things to do with sewing & tailoring. Last year was my first time attending the Exhibition & even before finding out about the Competition, we were planning on going to the Exhibition this Year too. So the following week, we did a small Photoshoot with me wearing a combination of this skirt & jacket, filled out the application forms & sent it the Organisers. The voting was to be done either through likes on Facebook, Emails or Fax, so Hubby, close friends & I started 'campaigning' on Facebook to try & get as much likes as possible. And how great is our God when on the closing of the Competition, I was among the Top 20 & won a chance to showcase my Outfit on the last day of the Exhibition.
After Church on Sunday, with the help of my good friends, we organised a Model, Make-up Artist, Stylist & Photographer & went for the Exhibition. It was such a proud moment for me to see my Outfit on a Bust among all these other beautiful creations. And seeing my friend walking down the catwalk in it was just amazing. But the best moment of all was when I heard my name being called out as Position 3 chosen by the Jury. All I can say is thank you Lord for this Talent & for giving me a chance to do what I love. I got a Participation Certificate which I will proudly hang in my Atelier & a Gift Voucher for purchasing Fabric at my favourite Fabric store, guess where...Mahler Stoffe (where it all began). We had a wonderful time & I even got to visit a Stand by True Fabrics, one of the Suppliers of Ankara Fabric here in Germany. They have such beautiful Fabrics & am sure that we will be working together in the future. I also met some wonderful people who really loved my outfit & encouraged me to continue doing what am doing.
I want to take this opportunity to thank everyone who's been supporting me since I started this new jorney of my life, may God bless you all. Hope to see you at the dockland Fashion Party this Thursday at IndoChine Restaurant in Hamburg.
Below are some Images captured by my wonderful Hubby...Enjoy & have a lovely week.