In my head, this is me when I meet my neighbour/ friend at the Market & she tells me a very interesting and funny story that just makes me laugh out loud.
Well, this is not a typical outfit that I would wear to my local market in Kisumu, Kenya (Oile Market). I can just hear my Mother's voice, ''Flo, don't you dare leave this house that you are going to the Market in that short dress. Please put on a Trouser or a skirt under...''
But this is an Outfit that I can wear to a Party, Lunch with friends, Date night or to the Farmers' Market here in Hamburg (but of course with my Mother's words still ringing in my head). What I love about it is that there's no don't need for extra Accessories because the Dashiki Print makes a statement in it's own. I love it & will probably have it hanging in my closet in 10 different colours. 
Do you like it? If yes, then it will be available in my online Shop as from tomorrow.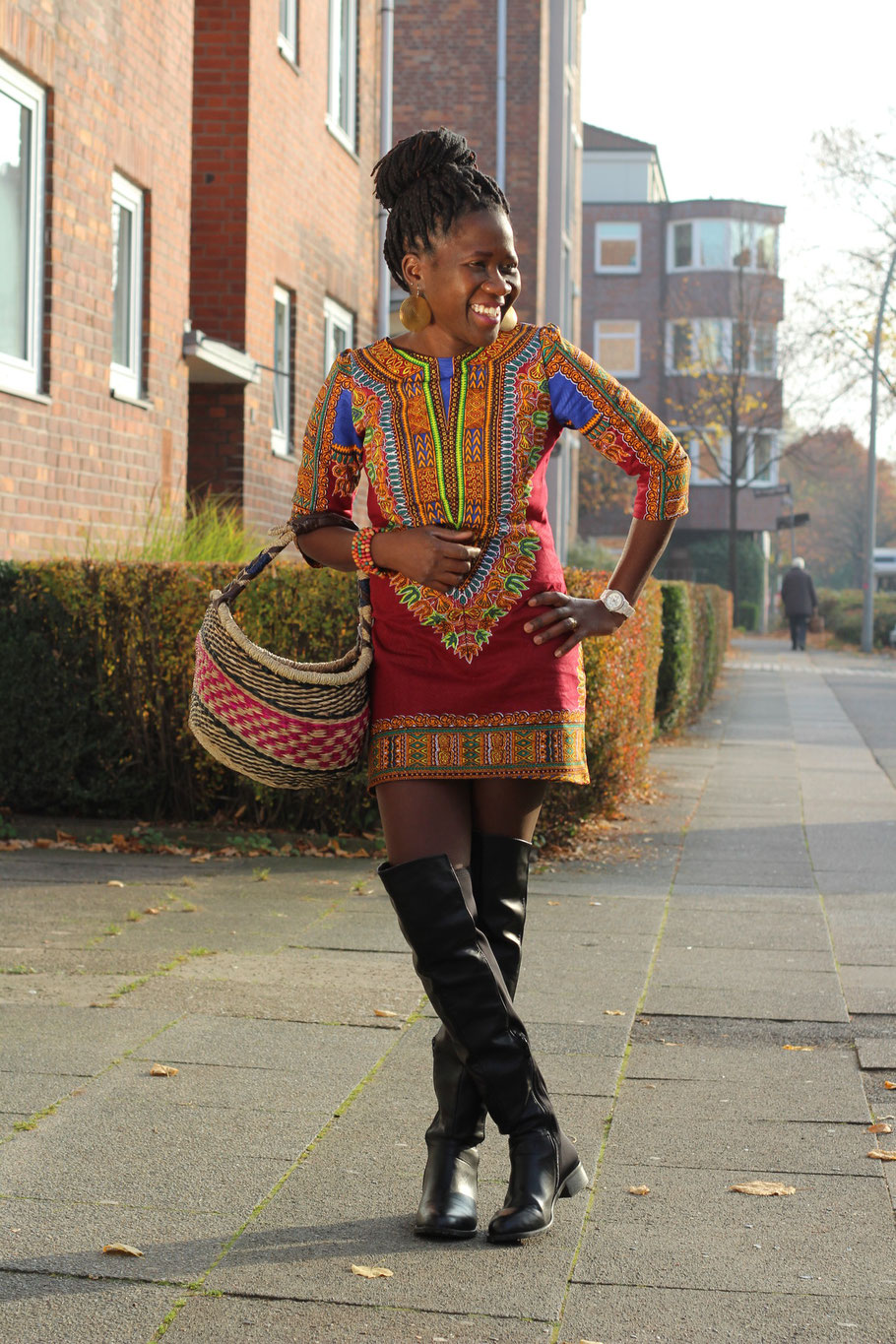 These Overknee boots are my go to shoes this Fall because they are so warm and comfortable. I also love these & this these here. My lovely Kiondo (bag made out of Sisal) was part of our Wedding Anniversary Gift that we got from a friend & is available here, & I love it.
Am also loving my diy Yarn Braids ( which are not yet fully done even after 4 days of Braiding). I've been longing to have a Braid/Loc Bun but my Locs are not yet that long enough, so I thought why not give them a boost with Yarn. Thank you Youtube for Hair Tutorials.
Thank you for visiting my Blog & wish you all a lovely week.