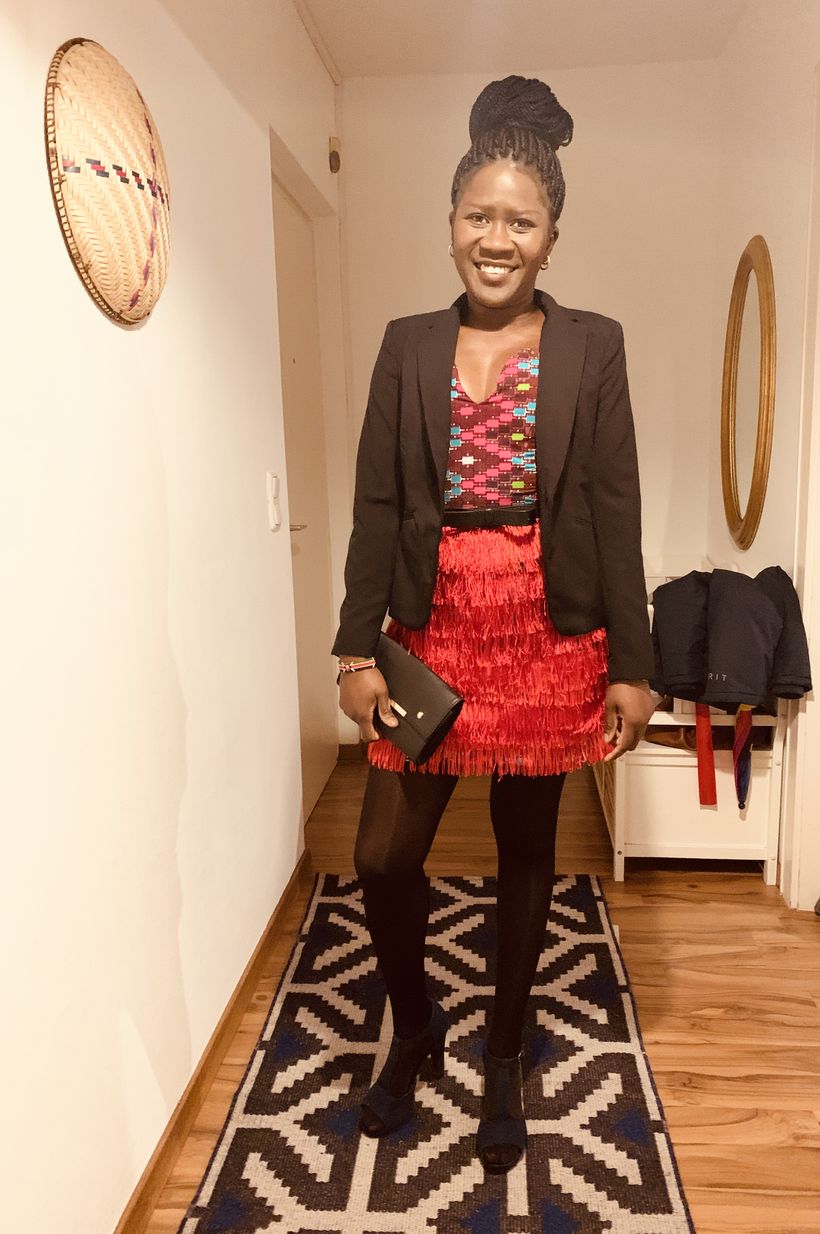 I was recently invited to a party by a friend (actually a lady that I work for who has since become a friend). I really wanted to wear something handmade & even had an idea in my head of a dress with some African print & fringes to make it fun. It was a house party & there would be some 'Swing & Jazz' music, so I thought that 'Fringe' would make a perfect addition to my outfit because of it's movement & flirt-ability (does that word even make sense)!
There's this dress that I had been working on since December last year (yes, you read that right) & I somehow never had the energy or time to finish. It was meant to be a long fitted mermaid dress but I knew that that would be too much for a 'House Party', so I decided to cut it short & then attach fringe to the bottom half. I had some red fringe fabric lying around in my studio & went right to work on it. Unfortunately, the fringe fabric turned out to be too little & so I had to rush back to the supply store to get some more. And of course, they didn't have the exact type that I wanted because I had bought that 2 years ago. But luckily, they had a shorter version in the same color which I decided to take & told myself to ''Make it work'' (in my Tim Gun of Project Runway voice). The dress turned out amazing, got lots of compliments on it & turned out to be very overdressed at the party (something that am very used to nowadays).
Am happy that I was able to re-work the design from something that looked fabulous in my head into something 'simpler' that was somewhat toned down but still fabulous. And even though I had to literally work on the dress until an hour before the party while still having doubts if the new design would work, I felt amazing in it & was very proud of myself for not being afraid to make the changes in the design idea.
That's exactly what I feel that I have been doing with myself in the last couple of months, rebranding myself not only as an individual & also as an Entrepreneur, because somehow along the way, I felt lost. I couldn't recognize myself anymore, who was this 'new person', listening to podcasts, reading books (of course I used to read before too, but am now reading more), journaling, streamlining my friendships (a nice way of saying that I got rid of many 'friends'), implementing 'no-buy' challenges, ordering salads as a main meal (well, that is not really going well for me. As it turns out, I only enjoy Rucola as decorations on my Pizza as opposed to a whole bowl of it)....
But what I have come to learn & accept is that, it is normal & even encouraged for one to re-define themselves because as humans, we change everyday, in our purpose, connections & even physically. So, am embracing the process & just loving the new me as I transform.
Hope that you too are embracing change in this new month!