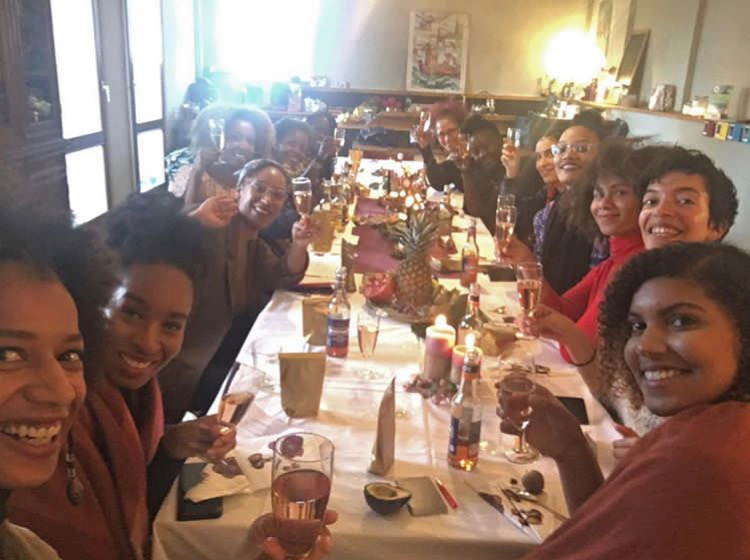 Sometime back in October, I had a great opportunity to meet & connect with amazing black business women entrepreneurs in Berlin for a fun-filled evening & networking event. This event happened to also coincide with the official launch of  'MyUrbanology', an online platform whose aim is to shine a light on the strengths & strides of people, especially people of color who are doing their thing & positively making an impact not only on the people around them but also online & to the rest of the world.. 
The Event which was held at the beautiful 'Studiogarten' in Berlin had such a positive but also very relaxed atmosphere to it & was a great opportunity to celebrate sisterhood by bringing together amazing black business women. Not only to celebrate each one of us by giving us a chance to get to know each other but also to connect through meditating, preparing & sharing a healthy & also very yummy meal together.
The meditation session which was led by Mashanti Alina Hodzode was something quite new but interesting for me, but I really appreciated the sense of peace & tranquility that it gave me, especially with the positive aura that could be felt around in the room. After that we got busy preparing a very simple but yummy dish which was curated by the amazing Nutritionist 'Magda Tedia' which we indulged in sumptuously thereafter. 
A big Thank You goes out to 'Stephanie Cuff' & 'Alina Hodzode' for organizing such a beautiful event & also congratulations for the launch of 'MyUrbanology'. I am really looking forward to attending more of such events & am excited to see what such networking & interactions will bring into the future.