To be honest, designing & making these African inspired evening gowns for the Miss Kenya Germany Beauty Pageant 2016 was quite a big challenge for me. In as much as I love my prints & bright colours, I always try & tone down on my creations, make them into simple outfits that do not 'shout' in any way & can easily be combined with other pieces already available in any woman's wardrobe.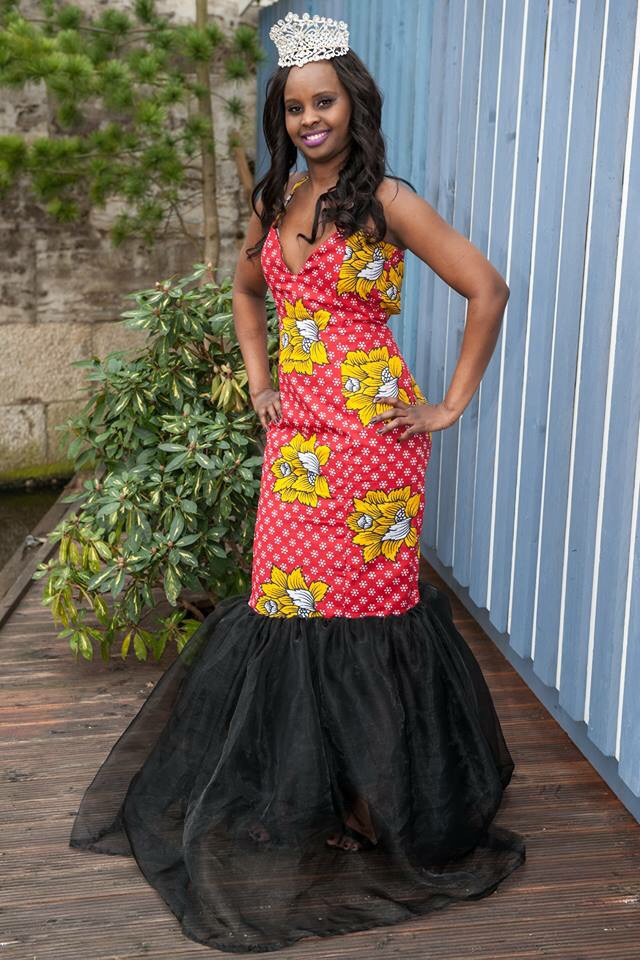 Fatuma Hanke                  Miss Kenya Germany 2016
So, when Donata Burmester (the organiser of this Pageant) approached me with this project, i was pretty scared & this made me push the commencement until about 2 weeks to the Event (crazy, I know). She wanted me to use Lessos /Kangas which have for as long as is known been a traditional type of dress amongst women in the African Great Lakes region.  One of the longer edges of the Lesso/Khanga features a strip which contains a message in Swahili, Other countries which produce their own Kangas write the Kanga messages/names in their main languages. This message is called the jina (literally 'name') of the kanga. Messages are often in the form of riddles or proverbs.e.g.
Asiyefunzwa na Mamaye hufunzwa na ulimwengu......The world & it's experiences are the best teachers
So we came up with an idea of the look we were going for & decided on which colour & print would complement which contestant in particular. And then a few weeks later, my awesome Team & I started working on the gowns. It was not easy but I really enjoyed the process & am so glad that I was able to tackle this new challenge to come up with 6 amazing gowns. We worked with lots & lots of Tüll & Organza Fabric to give the dresses shape & elegance.
We were able to do a Fotoshoot before the Event at the beautiful Boat Storage & Hiring Bay, Anleger Hamburg which is run by a friend. The beautiful scenery at the banks of the Alster River provided the perfect background for shooting the Outfits. We worked with the amazing Photographer, Carsten Belmondo  whose photos we will share with you as soon as they are made available. But we were also able to capture the Images below during the Photoshoot.
Hope that you love them as much as I do.